Chacala is another gem on the Mexican Riviera, north of Puerto Vallarta

I had set Chacala as the farthest north that we would travel on this trip, as we didn't feel like hitting the mosquito savannah country up around San Blas. I'm very glad we had kept driving from Rincon to see it, because it is yet another beautiful little vacation beach on the Costa Azul.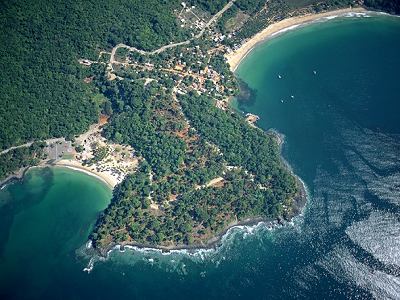 There are some palapa restaurants, B&B's, villas, and basic hotels to stay at, but no big resorts of any kind. There is a high end exclusive residential development on the point at the northern end of the beach (left side of aerial photo) called Marina Chacala, but it does not intrude on the main beach area. We regretted somewhat that we didn't have our motorhome, as there is a great looking RV park right on the beach, in the best possible spot.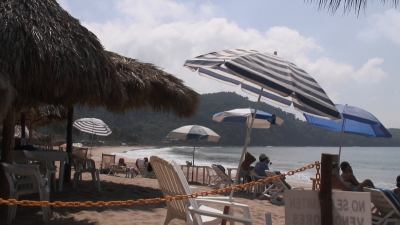 The is a little port there, mostly for little boats involved in excursions and fishing. It looked like a pretty good place to anchor - you can see the little white dots in the aerial picture, those are boats anchored in the same spot as those seen in the close-up picture below. The bay is a considerably more pronounced 'U' shape, compared to most of the shallow crescent beaches that dot the coastline, so the boats are more protected than usual, although it certainly isn't an enclosed harbor, except for a small sheltered are where the port is. I was sitting there on the beach thinking that our 30' sloop Serenade would look real pretty lying at anchor in that bay (sigh).
The main beach is on the right, and the little village runs up the slope from the beach, providing good views from many of the homes. Chacala is some distance from the main Highway 200, so it is very quiet there. The access road is paved and the countryside is truly beautiful, with gently rolling hills that are mostly farmland.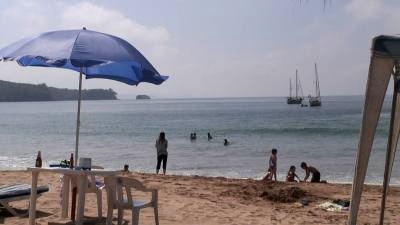 We spent the afternoon at Chacala, then headed back down the highway (see picture below for typical highway 200 shot; not bad but note the absence of shoulders) to Rincon for the night; it was getting very hot and all I could think about was a cold swim in a nice pool somewhere, before a dinner of camerones!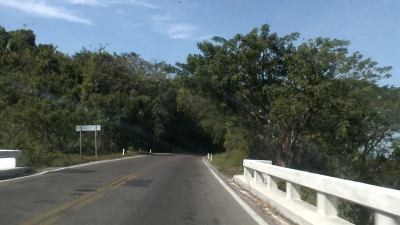 NEXT DESTINATION: Costalegre