Flying to Puerto Vallarta on a Boeing 787 Dreamliner - soon
If you're planning a vacation in Puerto Vallarta, you may soon be flying there on a Boeing 787 Dreamliner, instead of a 747. The 787 is likely to be used by airlines to deliver throngs of happy tourists to all the popular Mexico destinations.
The Boeing 787 Dreamliner Lifts Off in 2007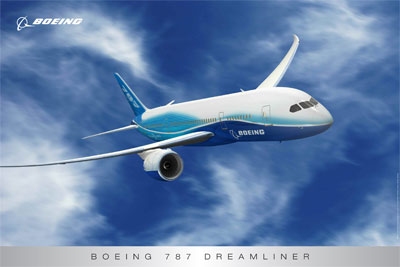 With the 787 design configuration finalized in September 2005, the 787 Dreamliner program includes 43 of the most capable aircraft supply partners in the world. All participants are connected by a vast computer network providing virtual design capabilities at 135 sites around the world. Working toward major assembly in 2006, facility construction for a total of 3 million additional square feet is underway to create the major structural components in order to bring the 787 to market.
New processes and technology will allow Boeing and its component supply partners achieve unprecedented levels of performance at every step of the program. The use of composites for manufacturing a one-piece fuselage section eliminates 1,500 aluminum sheets and roughly 50,000 fasteners.
The Boeing Dreamliner 787 program launch took place in April 2004 with an unprecedented order from All-Nippon Airways. Following that event, more than 27 customers have placed orders and committed to 379 airplanes from five continents worldwide, making the 787 Dreamliner the most successful launch of a new commercial jet airplane in Boeing's history, more so than even the famous 747.
Opening in Everett, Washington in 2007, the final assembly plant will be pushing new 787 models out the door to customers around the world. The first flight is expected in 2007, with payload service beginning in 2008.