Melaque and Barra de Navidad share the beach on Bahia de Navidad
So we drove south for about 4 hours from Rincon de Guayabitos and made it to the twin towns of Melaque and Barra De Navidad. Though they share the same beach on the Bay of Navidad, they are separated by a swath of Savannah and a lagoon where there are no connecting roads, and they both have their own very distinctive character. Melaque is a larger but quieter place, where most of the Mexican population lives and works. Barra de Navidad is mostly a narrow 4 block strip sandwiched on the sandbar between the ocean bay on one side, and the Laguna de Navidad on the other - a very lively place with a high concentration of hotels, bars, and restaurants that are active until the wee hours. This area is only 20 minutes by road from the Manzanillo International Airport; bus fare is $3 and cab rides are $30.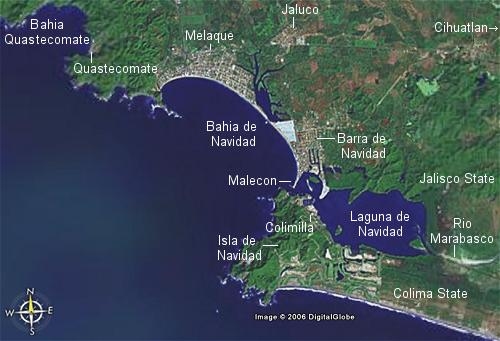 This is a gorgeous area, with much to offer, and we decided stay in this region for the balance of the trip. The temperature ramped up by about 5 degrees over the Puerto Vallarta region - as hot as I can handle, that's for sure. It was about 85-90 F during the day, and maybe 75 F at night.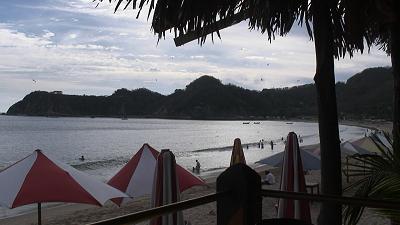 We spent the first night in Barra de Navidad, as we were meeting friends from home, and moved back to Melaque the next day, to a quieter location on the beach where we could soak up some sun and do some swimming while Jenni recovered from her cold that she caught on the plane. These are pictures looking west and east, along the Melaque beach, taken while sipping a cerveza in a beachfront palapa restaurant.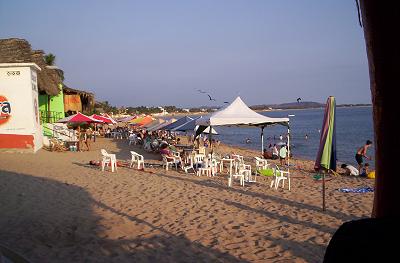 The water is like a bath, great for swimming, although the beach is a little steep and it can be hard to get out of the water because of the undertow that sucks the sand right out from under your feet every time a wave recedes, especially at high tide where the beach is the steepest. If this could be a problem for you, remember that the waves are calmer on the more sheltered western side of the bay. When choosing a hotel room, you may not want to be right on the beach as there is a considerable 'thump' that resonates through the ground everytime a wave lands at high tide on the sloping compacted sand.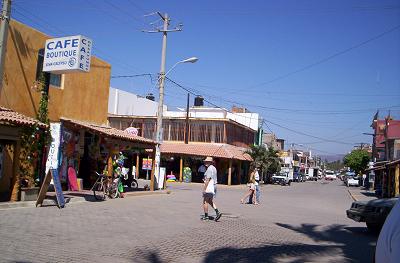 We chose a very pleasant waterfront posada (Inn), the Posada Pablo de Tarso (named after an Apostle), that has a large pool area that separates the rooms from the beach enough so you can sleep quietly. Paula, our gracious hostess, and her friendly staff work very hard keeping the place immaculate, and the grounds, gardens and ornate architecture provided a very relaxing atmosphere, and a real bargain at $45 per night. It is only 2 blocks from the central part of town (downtown Melaque picture above), so walking to restaurants and shops was no problem (the food in that area is excellent).
Melaque, San Patricio, and Villa Obregon are three beachfront villages that collectively make up the community referred to as Melaque. The village of Melaque is at the western end of Bahía de Navidad, San Patricio is a section in the middle and contains the Zocalo town square with many retail shops, and Villa Obregon is the easternmost residential area. The three villages form the largest coastal community between Puerto Vallarta and Manzanillo, and the official name is now 'San Patricio-Melaque'.
Toward the highway in what is referred to as San Patricio, you'll find the Melaque town square. Yet another very pleasant Zocalo (picture below) situated right in front of a church, it was a bustling place where much of the town's economic activity takes place. I was interested to find the church, as I have very pleasant memories of listening to the church bells tolling what I'm certain was 'Ave Maria' every morning at dawn.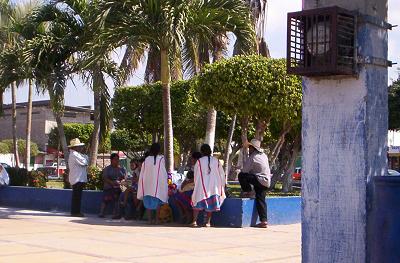 There were numerous pedestrian-only alleys full of little eateries and shops where you could buy just about anything. Prices were really good too, as this is where the Mexicans shop and eat.
We could only stay 2 nights as the approaching weekend was the beginning of a major Mexican holiday, Constitution Day, a time when everything is booked solid. Not to worry, though, we found this spectacular little village called Cuastecomate, just a couple of kilometers away, around the headlands of Melaque bay (Bahia De Navidad - Bay of Christmas, actually), in another beautiful secluded bay. There's one resort there (Hotel Real Costa Sur), and for $55 night, we got a balcony room with a panoramic view, great sandy swimming beach, huge pool with swim-up palapa bar, and a series of beach front palapa restaurants to choose from.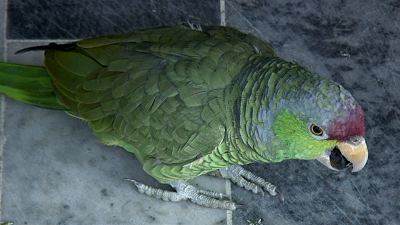 So, while the Mexicans celebrated Constitution Day in town, we relaxed there, because it wasn't too busy - most people want to be in town for the celebrations. We certainly enjoyed driving up to Melaque and Barra De Navidad to watch the celebrations, though, as it was a major fiesta!! It was a nice surprise as we didn't know about it, and it was an interesting look into the cultural landscape of Mexico.
NEXT DESTINATION: Cuastecomate