Tenacatita Bay and Playa Mora: Jewels of the Mexican Costa Alegre
Tenacatita Bay is the largest of a string of bays that stretch northward toward Puerto Vallarta along the Costalegre coast from the Bahia de Navidad, where the towns of Melaque and Barra de Navidad are located.
BULLETIN: TENACATITA LAND SEIZURE & CLOSURE:
Wealthy Guadalajara businessman Andres Villalobos, with the support of dozens of armed Jalisco state police officers, has appropriated the main Tenacatita beach area, evicted the residents and bulldozed the beach restaurant palapas and other structures.
Villalobos, who obtained a court order to carry out the eviction of around 50 low-income families, vowed to demolish every standing structure in a 80-hectare tract of land bordering Tenacatita beach, regardless of whether they are legally titled to others. State police and employees of Villalobos' company, Inmobiliaria Rodenas, have blocked the road to the beach with an electrified fence across the public road, and are keeping everyone off the land.
The village of Tenacatita, at the north-western end of Tenacatita Bay, is a beautiful little spot just 30 km north of Melaque and Barra de Navidad by road. Easily accessible on a flat paved road, you'll enjoy a scenic drive through agricultural flatlands and the town of Lazardo Cardenas until you reach Tenacatita at the ocean's edge.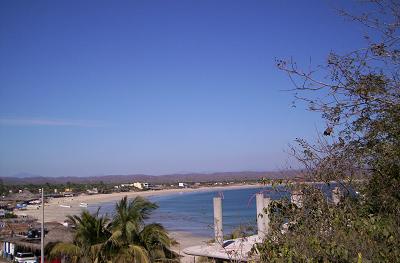 The village is built on a sandbar (pictured at right) that forms a silver strand along a gorgeous sandy bay, anchored by rocky headlands at either end. Largely because it is an ecological reserve, it has a very strict policy of no basura (garbage), and is as clean as any place I have seen yet in Mexico.
Behind the sandbar is a 'lake' of brackish water surrounded by mangrove trees, and you can actually walk down the back of the sandbar and take a boat excursion that will ferry you through the mangrove swamp out into the ocean via the Boca de Iguanas river entrance, next to the Blue Bay resort around the southeastern headland.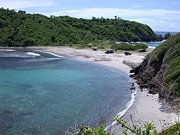 The real claim to fame of Tenacatita, however, is the little bay around the northern rocky headland (see map below). If you've ever seen the aquamarine green, white sandy beach, transparent water photographs in the travel magazines (that you never seem to be able to find), then here it is folks.
Playa Mora, pictured at left and below, is a beach to die for, nestled in a little bay with a gradual slope that allows very easy walk-in access to the 80 degree water. Known to the locals as 'The Aquarium', if you dive there, you'll soon discover that it is aptly named.
Because it faces inward to the coast with a rock barrier to the outside (very unusual on the coast here), the waves are very slight and the visibility is good.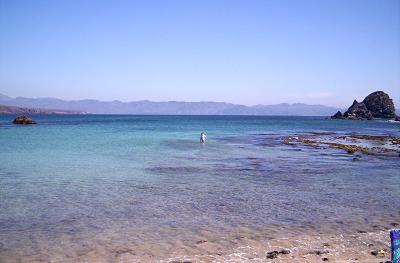 We were diving it at low tide and although there was some turbidity (not as clear as Cozumel), the visibility was just fine thank you.
It is probably even better at high tide because the waves will be breaking on a strip of smooth stones that run along the beach above and below the high tide mark; at low tide the waves are breaking on the sand, which gets stirred up slightly. The picture above shows the coral reef exposed at low tide - that's me, walking back after a recon dive to get Jenni.
Yes, that really is coral - if you go to this place, don't forget to bring an underwater camera, because not 30 feet from the water's edge is a coral reef teeming with fantastic iridescent colored fish with spectacular patterns that seem almost artificial with their extremely bright colors and design.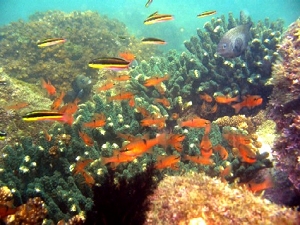 How about a school of long skinny billfish with an iridescent blue tail, a near transparent body, and a sharp, iridescent dayglo blue beak? I realized this could be a defense strategy, because from a short distance away, it looks like there are twice as many fish in the school, and that they are much smaller than they really are. The size of fish that would normally go after them probably doesn't bother, thinking it's small fry, and the type of fish that they eat probably doesn't pay much attention until it's too late.
Or, how about a fat purple fish with white ringed polka dots that propels itself with a wobbling motion and tiny little fins that flutter at a rapid rate? In all, I estimated that I saw about 20 different species of fish, and I'm sure there are many more.
This was quite different from the diving we did around Cozumel, where the reef was 6 to 10 feet below the surface, and you had to dive down to get close (not to mention the fact that you don't need a boat for reef access).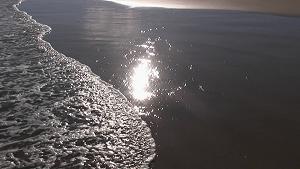 The coral reefs here extend from a depth of about 10' up to the surface, so instead of having to dive down to a reef some distance below, you can snorkel as close to this one as you like and still be at the surface, with the fish right in front of your mask (taking care to leave some depth so you don't get bashed onto the coral by a rogue wave).
If you had a boat in this area, you could spend countless weeks exploring the multitude of beaches, bays, islands and reefs. My understanding is that there are also many more colonies of coral in various different spots along this coast region.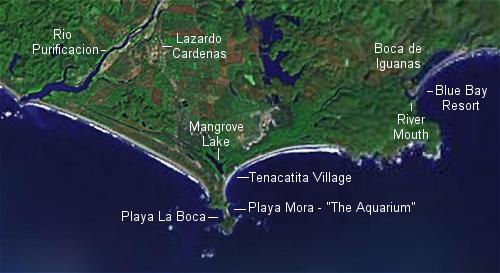 After our dive was finished, I was delighted to fine several hotels in the village, a 'Super Mini' (store) and numerous beach restaurants (main street picture below), because we really wanted to stay for a while, at least overnight. We ended up at the Hotel Paraiso (Paradise Hotel, pictures way down below). It was a basic room, very clean, with 2 beds and a bathroom and shower, which was fine with us. Even better, you just walked out of the door onto a large patio area before you took a dive into the alberco ... not bad for $30! It was located on the other side of the road from the beach, which turned out to be a good thing because the Tenacatita beach also has a loud thud at night when the waves hit the sloped shore at high tide. Fortunately, it was just far away enough that it didn't interrupt our sleep.
After we checked in, we took a stroll onto to the main beach in front of the Tenacatita village, and had a delicious seafood meal. We should have gone a little earlier, however, as it turns out the no-see-ums (jejenes) come out towards dusk for their dinner too (us, that is).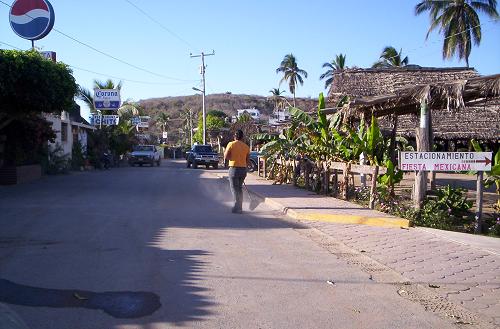 With some regret, we said goodbye to this lovely place the next morning and headed out on a 3 hour drive back to Puerto Vallarta. We were going to stay there and see what the city is like, but we took one look at the busy crowds (about 10 people per square foot), narrow streets, absolutely no parking spots, and crazy Mexican drivers and drove right on through, back to Sayulita. We stayed that last night at our nice quiet, brand new Sayulita poolside resort ($65), until we flew out the next day. We made it back to Puerto Vallarta for a few hours before we got on the plane, and had a very enjoyable time in the city - a great way to wrap up the trip.
---
Here are some more pictures from Tenacatita: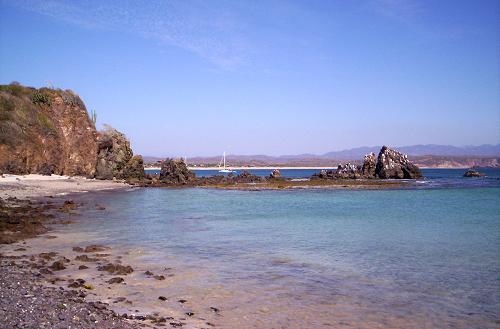 Looking from Playa Mora past point at boats anchored off Tenacatita beach in background
---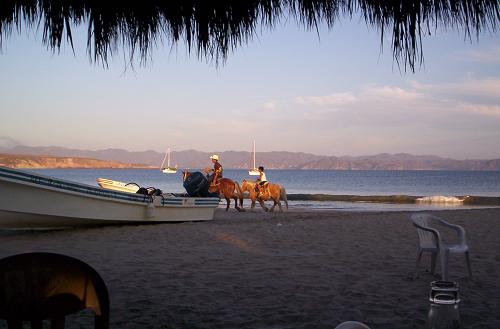 View of Tenacatita Beach at Sunset from our restaurant table ... that's the little town of La Manzanilla waay in the background
---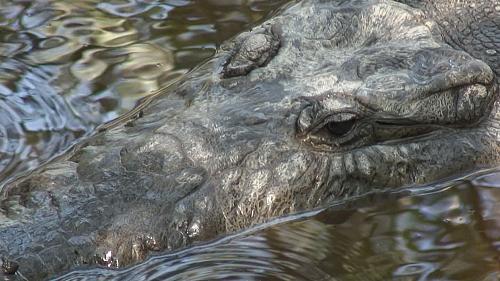 Crocodile at Eco Reserve in La Manzanilla, Tenacatita Bay
---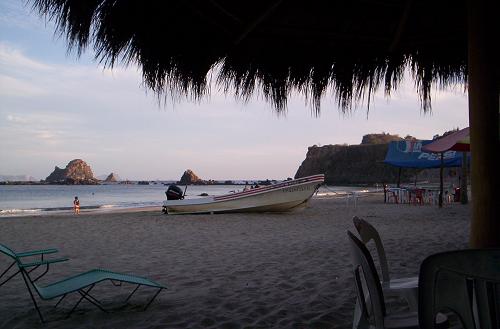 Another View of Tenacatita Beach at Sunset from our restaurant table
---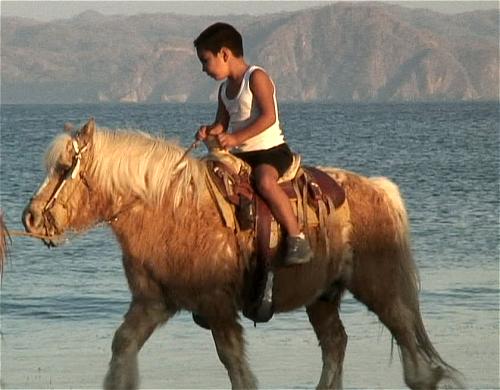 young boy riding horse on Tenacatita beach at sunset
---
Pangas tied up on Tenacatita beach at sunset
---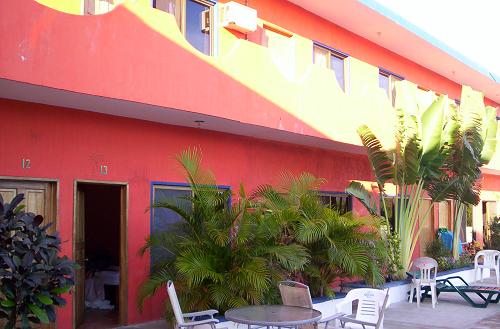 Our room at Hotel Paraiso, showing pool patio and planters
---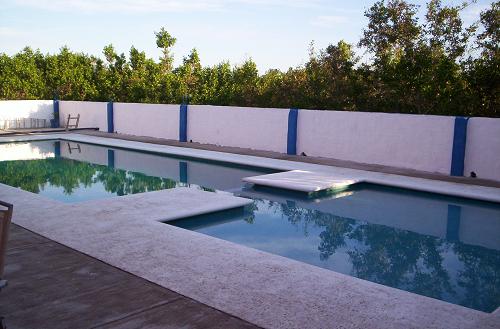 Hotel Paraiso - swimming pool surrounded by Mangroves - water was great!
---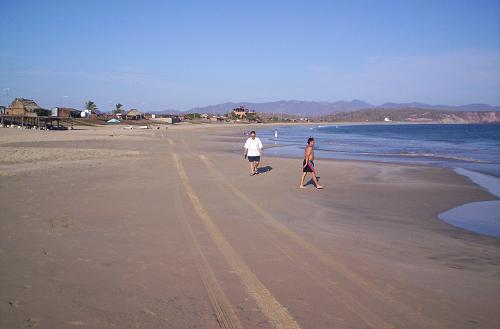 Tenacatita - endless beach
---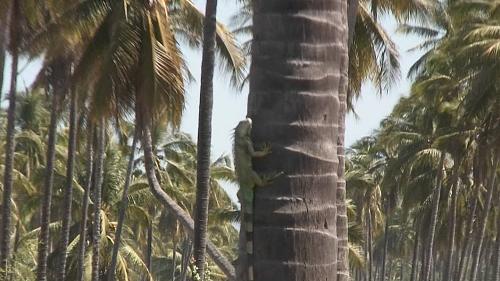 Iguana scurries up a palm on the road to Tenacatita
---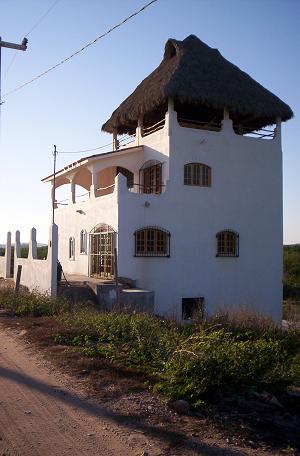 Tenacatita Beach Villa
---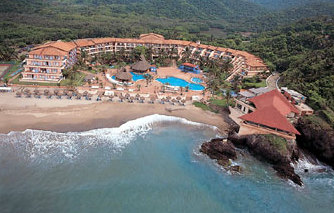 Blue Bay All-inclusive Resort on Tenacatita Bay
NEXT DESTINATION: Manzanillo