Rincon de Guayabitos is a tourist Mecca on the Mexican Riviera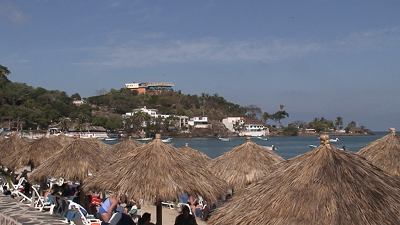 We pressed on north from San Pancho to Rincon de Guayibitos, turning off to see a few places along the way, such as Lo de Marco, Los Ayala, and Chacala. We drove through Rincon, just to see it, and then headed for the village of Chacala, the most northerly spot on our trip, where we turned around and started heading south again.
Our visit to Chacala was very pleasant (see Chacala beach article), but there wasn't much accommodation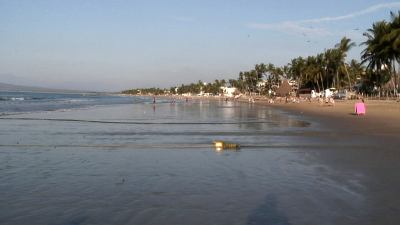 and it was a very hot day, so we decided a nice hotel with a pool in Rincon would fit the bill perfectly.
Rincon literally translated means 'wrinkle' as in coastline wrinkle, because the southern end of the town is situated in a prounounced bay with a considerable promontory jutting out into the sea. Guayabitos means 'little guavas', no doubt a reference to the huge fruit growing industry that exists in the agricultural zones nearby. The beach is flat and very swimmable, and it is a very popular place for Mexican, Canadian and US residents to spend the winter.
It is an interesting place because it falls somewhere in between the sleepy coastal village environment that we like, and the huge, government sponsored Fonatur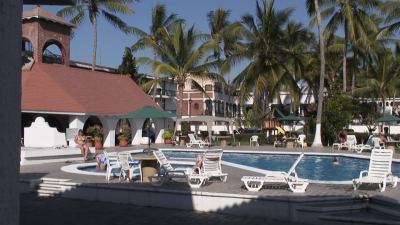 (Mexico's national trust for the promotion of tourism) megaresorts such as Punta Mita, Ixtapa, and Cancun. The hotels are somewhat upscale, but reasonable room rates are to be found. We paid $85 for a kitchenette unit that was right outside the pool, and it was a perfect way to cool off after a long hot afternoon. Be aware, though, that Mexicans generally do not heat their swimming pools, and this one was not all that warm.
Rincon was a bit like Miami beach, compared to Sayulita, and we found that the quieter villages with a predominantly Mexican population are much more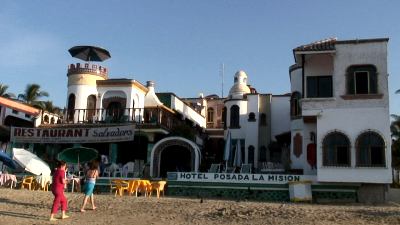 interesting from a cultural point of view - and certainly much cheaper, maybe half the price you'll see in the gringo tourist traps. For $40 to $50 US per night you'll get palatial (often beach front) accommodations in the smaller towns, and I've seen very comfortable basic rooms for under $20 per night.
Except for the beds made out of concrete, we enjoyed our stay in Rincon, and had a great meal at a great restaurant in a lovely little Mexican hotel right next door to ours, the Hotel Posada La Mision. If I had noticed this sooner, I would have investigated the rooms there ...
After a night sleeping (not) on beds that were made entirely from concrete, and noises that sounded like guns being fired right outside our door (probably fireworks), we took our weary bones and started our journey south.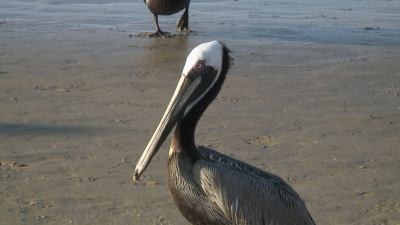 A quick stop in the pretty village of San Francisco netted us some beautiful beaded figurines that we had spotted on the way up, and we went back to get them as we realized they weren't in general circulation - it was the only place we had seen them after looking at a lot of stuff in different towns.
We also got some great footage of the lady selling them, who graciously allowed us to take pictures of her, dressed in the beautiful multicolored traditional native clothes. I had brought our new high definition HDTV widescreen digital camcorder with us, so we'll have lots of interesting footage to watch on the big screen in our home theater system when we get back.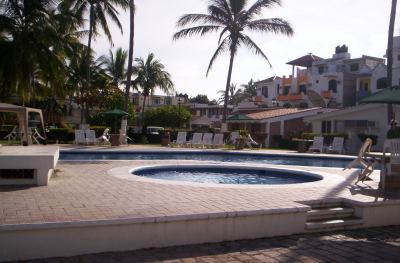 NEXT DESTINATION: Chacala