Costa Azul: Plenty of hotels, resorts and villa rentals where jungle meets ocean on the Nayarit State coastline
Costa Azul (Blue Coast) is the official designation by the Mexico Tourist Board of the coastal stretch between the northern tip of the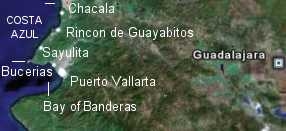 Bay of Banderas (Punta Mita) north to San Blas. Not to be confused with the resort at Playa Costa Azul just north of Sayulita and San Francisco, it is a beautiful region of coastline where the lush, verdant jungle vegetation zone extends all the way to the many fine sandy beaches. There are many resorts, hotels and villa rentals available in the region.
The Bay of Banderas and the Costa Azul region are the only areas on the central Mexican Riviera coast where this jungle environment can be experienced right at the beaches. The residents here have little need to plant shade trees on their properties.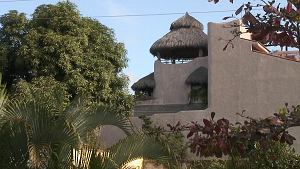 There are many villa rentals, hotels, bungalows and resorts to choose from, with pricing to match any budget. You can find decent rooms for $20 per night, all the way up to the luxury class of resort or villa at around $500 per night.
Pictured here is an example of a typical Mexican adobe style Casa with a rooftop palapa and just enough elevation to provide a spectacular view of the ocean in Sayulita, with a large Mango tree in the front yard. It is an easy 10 minute walk to the village center. This is where we began our vacation ...
Starting at Punta Mita in the south, the Costa Azul extends to the San Blas area, and includes towns and villages such as Sayulita, San Francisco, Rincon de Guayabitos, and Chacala. Although we didn't look at every little coastal village, we visited and took pictures at our more favourite spots. The picture below is a shot of the north end of the beach at Rincon de Guayabitos - a busy place.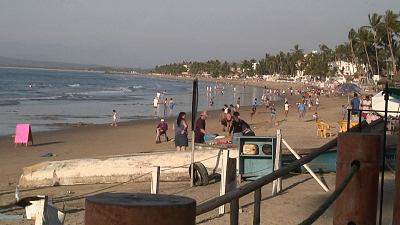 NEXT DESTINATION: Sayulita