San Francisco: A quiet, pretty place on the Costa Azul
While staying in Sayulita, I was aware of the fact that there was another town just to the north called San Francisco (or San Pancho, as it is known to locals) - in fact, you can see the villas and a hotel from the beach at Sayulita,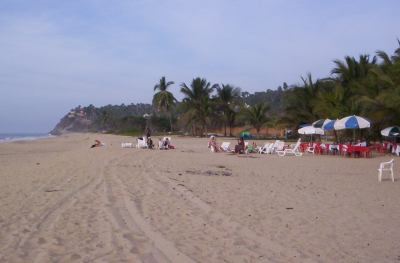 and you can just walk up the beach to see it. We hopped in the car and drove up the highway for about 10 minutes and soon reached the turnoff. Although there aren't as many hotels, resorts and villa rentals as there are in Sayulita, I was very impressed by the clean cobblestone streets and the very pleasant beach area.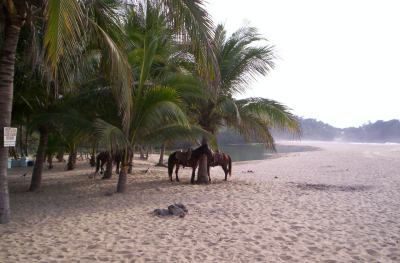 We sat down at the beachfront bar, where you are shaded by a palm grove, and took in the sights. It is actually a better sunset beach than Sayulita because of the orientation. The sun in Sayulita goes down over the point, whereas you get a full sunset into the ocean at San Francisco.
Although there are some elevated areas, the topography in San Francisco is much flatter than Sayulita, and the town area is actually quite large. I wouldn't be surprised if there were nearly as many people there as in Sayulita, although it doesn't have the same hustle and bustle in the downtown area.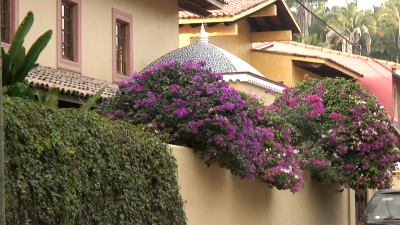 There is also a river on the south side of town that drains into a lagoon at the beach. It didn't reach the ocean, but I'm sure it does in the rainy season.
It has been said that if Sayulita is a sleepy town, then San Francisco is in a coma. There is some truth to that, I guess, but I found the atmosphere very tranquil and relaxing, and for those of you that prefer a quieter time, I would definitely recommend it. There is definitely no Disco Palace here, but there is a selection of what appeared to be good restaurants, and it looked to me like all the basic services were available in the village. Puerto Vallarta is only about 45 minutes by car, and you'll find just about anything else you need there.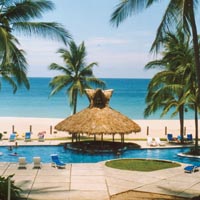 There is a road that starts in San Francisco and follows the coastline for a few miles before it ends, and along that road you'll find some attractive looking resorts and hotels, as well as villa rentals. The Costa Azul Adventure Resort is located on a very private stretch of beach.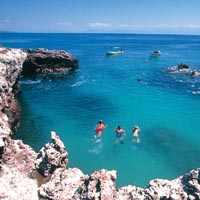 It is a popular place, with many things to do - it offers all-inclusive packages that include activities such as surfing, hiking, snorkeling, surf lessons, horseback riding, destination weddings, group events, beach front dining, family friendly activities.
There is a nice big public plaza area right at the beach, and when we were there, we noticed some very intriguing native art on display.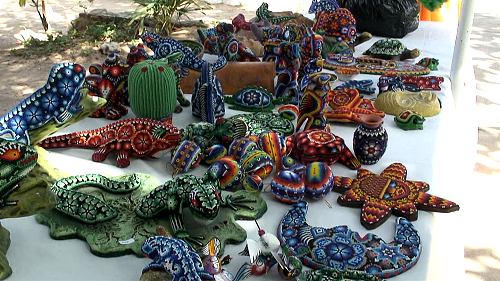 We later found out that it is a particular creation of the Huichol natives from the Sierra Madre mountains in the states of Nayarit and Jalisco. These pieces are not seen very often anywhere, so if you find some, I would recommend buying it, because it is incredible value for the money. The pieces we bought were around 200 pesos ($20 US) each.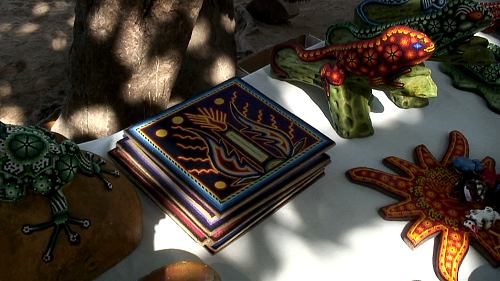 There are 2 basic types: beadwork that is painstakingly applied to terra cotta objects such as the iguana in the picture (bead by tiny bead), and yarn 'paintings' whereby single threads of different colors are woven into a picture (see the flat rectangular pieces in the photograph).
My understanding is that peyote plays a major role in this culture, and it would probably explain how they are able to create art with such detail that must take so much time.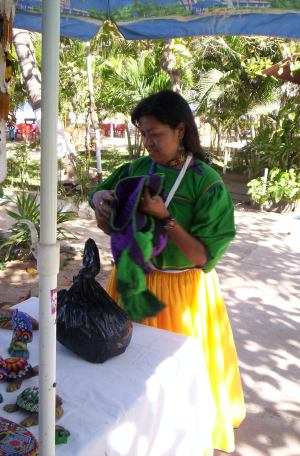 From what I saw, each piece would take days of careful work to produce.
Living mostly in the states of Nayarit and Jalisco, the Huichols of the Sierra Madre mountains are descendents of the Aztecs. I was also interested to find out that the little island village of Mexcaltitan, just north of the Costa Azul in the vicinity of San Blas, is considered by archaeologists to possibly be the legendary home of the Aztecs, who began their long migration, lasting for generations, to the valley of Mexico around 1091.
They are also related to their Aztecan speaking cousins, the Arizona Hopi natives. They still function according to the ceremonies of their remote past. There is a store in Sayulita called the Huichol art shop, where their art can be viewed and purchased.
They were raising money to help preserve the ecology of the area, and we were very happy to buy some pieces as they were high value, affordable items. It wasn't until we later arrived in Barra de Navidad that we found out how valuable it is from a local art dealer there that knew all about it.
The lady at the stand very kindly allowed us to take a picture, something not all Mexicans are comfortable with (some think you steal their soul when you take a picture, so always ask before shooting).
Note how bright and colorful the native apparel is - no dull grey in her wardrobe!
---
Additional San Francisco (San Pancho) Pictures: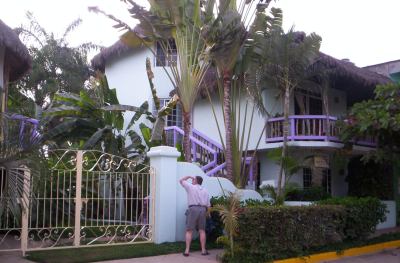 San Francisco - typical villa
---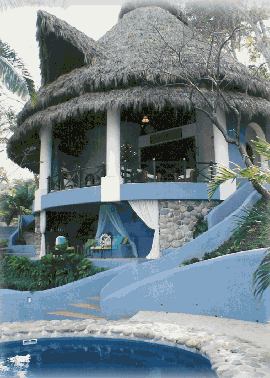 San Francisco - villa rental in area
---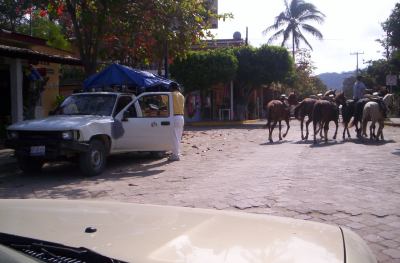 San Francisco - typical street scene
---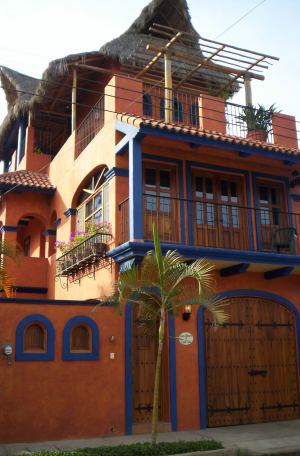 San Francisco - nice casa near the beach
NEXT DESTINATION: Rincon de Guayabitos