Sayulita: A great little village to start a Mexican Riviera vacation - only 45 minutes north of Puerto Vallarta
Sayulita was a great place to start the holiday. It is a small village (pop 3,000 approx) with shops and restaurants, great beaches with calm areas and good surfing breaks, and quiet residential neighborhoods near the town core.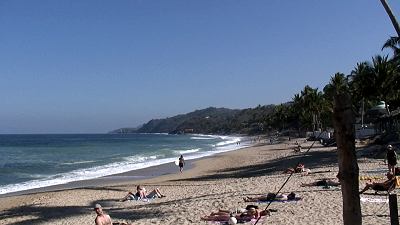 It is a short, easy drive north from the Puerto Vallarta airport, and does not require that you pass through PV to get to it. If you're not driving, you can take a bus from the airport for $2, or a cab for about $50.
There are many hotels, resorts and villa rentals to choose from, but you're best advised to reserve ahead of time as it is a popular place. We had originally intended to rent a villa, but we just couldn't find any available.
The village is nestled in a valley that carries a river (dry in winter) to the ocean, and it has steep hills on all sides. The village sits on a slightly sloped portion of the lower flatlands, which stay almost level until the hillside is reached - then it's straight up to the sky! The jungle comes right to the ocean here, but it is not a thick machete-hacking type of jungle - although green and lush, it is best described as a kind of open jungle that is easy to walk through, and very pleasant indeed.
Sayulita has a very relaxed, casual 'first names only' atmosphere with plenty of friendly folks, and everyone appeared to be having a very nice time. There's not much that goes on in the wee hours, but there is good music and entertainment that carries well into the evening. There are quite a few surfers here, providing ongoing entertainment as you sit at the beach soaking up the sun. Yes, there are a lot of gringos here, and the Mexicans are used to conversing in English (but remember, it is polite to attempt to use Spanish first).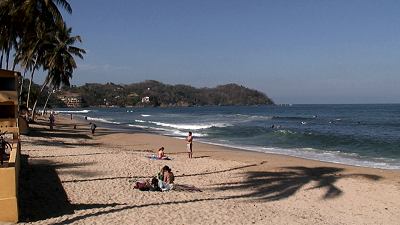 I was delighted to find that my new GSM phone worked like a charm, with full internet capabilities, just as if I was at home. The cell coverage in every town was excellent; I rarely saw signal strength lower than 100%. This meant I could carry on business from my hotel room, or in a restaurant, or on the road, just as if I was at home, without having to go to internet cafes all the time. This made the trip far more relaxing for me - kudos to Nokia and TelCel! If you do this, be careful to use it only when necessary, as the data roaming charges are very high - it cost me over $800 for the 2 weeks we were away. For extended sessions, you'll be better off to find a wi-fi lounge.
Later, after I got home, I realized that the Windows Automatic Update and anti-virus program 'automatic download' was on, so my laptop had been busy downloading (in the background, unnoticed) all these big update files from Microsoft. As far as I can tell, that alone accounted for about 90% of my extra bandwidth charges. Even though I had set it to 'notify me but don't download', it had somehow switched itself to 'Automatic download'. Sheesh, Microsoft!
The email to text forwarding worked fine too, so I didn't have to bother checking in like the old days, as it would tell me when there was some email traffic waiting for a response. That being said, for those of you without GSM, I noticed there are WiFi enabled lounges and restaurants starting to appear where you can use your own laptop, as an alternative to internet cafes where you use their machines (it's much more secure to use your own laptop). You'll usually pay a small fee for the login password, but it's probably cheaper than using GSM.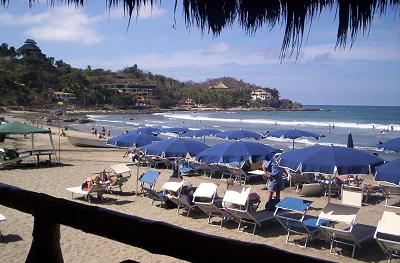 We spent a couple of days there and explored the area; fabulous beaches, wonderful wildlife - pelicans, frigate birds, flying fish, parrots, iguanas, etc ... great little town and very safe to walk around at night enjoying the Zokalo (central public plaza), the little restaurants and beach night life. There was a surfing competition coming up, so it was very busy with a lot of young people arriving for the competition. The air temperature was about 80 to 85 degrees F during the day, down to around 70 at night, and the ocean temperature was around 75 degrees. Perfecto!
I had the best Pizza I've ever tasted (Don Pedro's), and the best ice cream I've ever had, made with fresh vanilla that was delivered straight from the Aztecan Gods ... and both in the same evening! The picture above was taken from our restaurant seat in Don Pedro's establishment.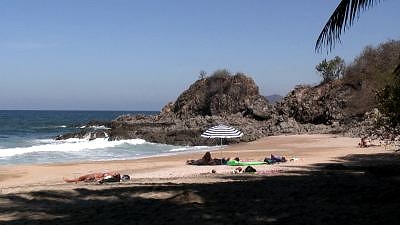 We took the short drive around the point where Villa Amor sits (a five star hotel-bungalow complex) to the secluded swimming beach of Bahia Los Muertos (Bay of the Dead - there's a cemetery there). It's a beautiful spot, couched between rock promontories and a world away from the relatively busy village beach. With sun and shade options, it's a great place to plunge into the waves that are big enough for body surfing. There is some snorkeling to be had there, but it requires a swim to the other end of the bay.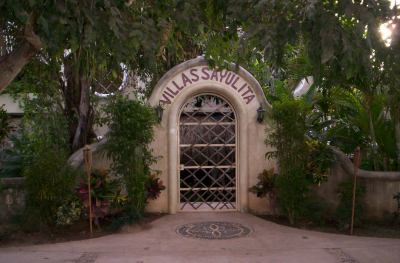 There are plenty of good accommodations available, but if you want a separate Casa, you'll need to book early as they run full for most of the winter. We had originally considered getting a Casa for a few days, but I could see that many were perched on the hillside, and I wasn't sure how much of a climb from the village they would be. We wanted to stay in a place where we didn't have to use the car all the time to get into the village core, and I certainly didn't want to be walking home up a steep hill in that heat!
I'm glad we didn't take a hillside casa because I didn't realize how steep the hills are until we arrived. We had booked a 3 night stay at the Villas Sayulita, which turned out to be a great place, within easy walking distance of the village. Ernesto is the host, and he is very acommodating and provided great hospitality (see the Sayulita Villa Rentals page for more villa rental info).
Another very worthy place to stay, right next to the Villas Sayulita, is the Bungalows Bahia del Rey (more info here on the Bungalow rentals).
After unwinding for a few days, getting used the culture again, and getting some of the basic lingo figured out again, we said goodbye to our very gracious host Ernesto (who bought our villas last year, and moved to the coast from Guadalajara) and headed north to visit a few other coastal locations. We went as far north as Chacala, a beautiful crescent shaped beach in a bay lined with palapa restaurants, but went back to Rincon for accommodation as there was a better choice of hotels. See the Rincon page for the continution of the story.
---
Here are some more pictures taken during our stay in Sayulita: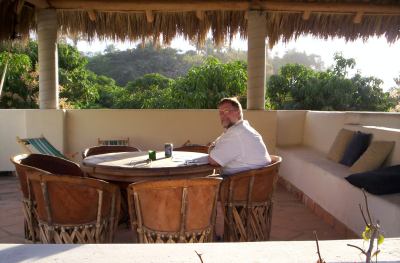 Rooftop palapa observation terrace at the Villas Sayulita www.villasayulita.com
(52) 329 291 3065
---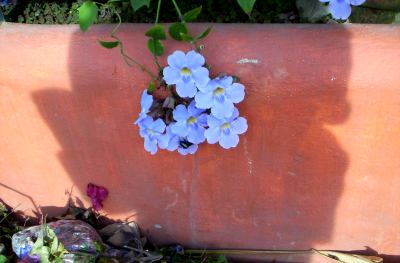 A flower pushes its way right through a crack in the mortar
---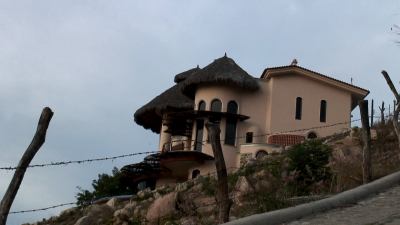 Typical casa in Sayulita - villa rentals abound in this area
---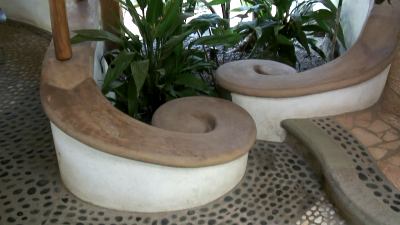 Curves and stone inlays are standard features of the architectural styles in Sayulita
---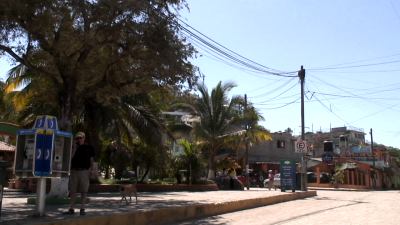 The Zokalo in Sayulita at the town center is a peaceful place to rest awhile under the palms
---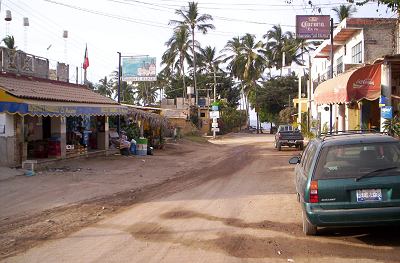 Typical street scene in Sayulita
---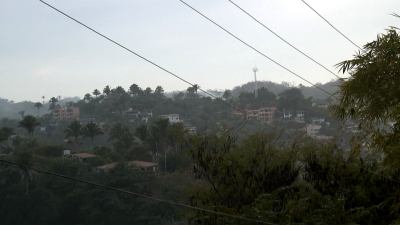 Although the central town area is fairly flat, steep hills characterize the Sayulita landscape - Gringo Hill is in the background with the cell tower on top
NEXT DESTINATION: San Francisco / San Pancho