Villa rentals, hotels and resorts are plentiful in the Sayulita area, 45 minutes north of Puerto Vallarta

There are literally dozens of spectacular villa rentals available in the Sayulita area, including towns further up the coast such as San Francisco, Lo de Marco and Monteon. Book early, though, as they are in heavy demand and you may not get one for last minute plans.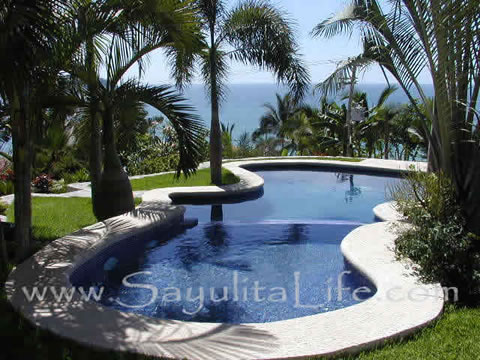 Most of them are at least a 3 or 4 night minimum, and this year I wanted to get the lay of the land first, before I committed to a lengthy stay. I'm glad I did because many of them in Sayulita are perched waay up a hill, and walking to the village center is just not feasible for us in that kind of heat. However, if you have a car and don't mind driving, it should not be a problem. Also, keep in mind that taxi cabs are very inexpensive in most of Mexico (except leaving airports), and a cabbie may charge you a buck or two to go into the village.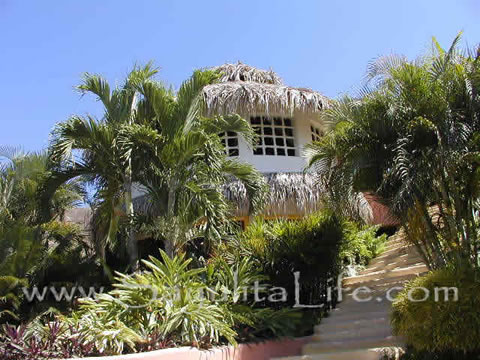 The pictures on this page represent but one example of a typical property that you can rent, and I just can't express in words just how spectacular these places are. The Casa Rana Verde is a three bedroom, four bathroom villa with an ocean view sitting terrace and pool that goes from $320 US per night (quite reasonable for what you get - especially if you share it with friends). Here is an excerpt from the description on the official Sayulita website, where you can see maps of Sayulita and make reservations for any of the villas:
"Casa Rana Verde contains three bedrooms and four bathrooms offering accommodations for up to nine people. Make sure to view the pictures of the incredible swimming pools with cascading fountain.
The estate is located on a beautiful hillside with 360-degree views of the ocean and jungle, and only 100 yards from the ocean sits Casa Rana Verde, a tropical paradise in wonderful, sunny Sayulita! With over 1.25 acres of private land, we are one of the largest pieces of estate property in Sayulita! The best tropical garden in Sayulita is at your doorstep with private, gated grounds that feature over 20 varieties of palm trees, plumeria trees, many varieties of hibiscus, many varieties of bougainvillea, sweet jasmine everywhere, birds of paradise, gardenia, corona, maguey, abundant cacti, almond trees, jamaica, bananas, papayas, Mandarin oranges, Persian limes, orchid trees, and much more. If you love to garden, this is a once in a lifetime opportunity to live in the midst of nature!!!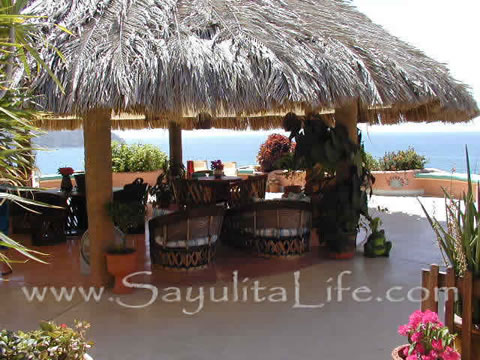 Our lovely estate is home to the most beautiful birds that you are likely to witness outside the most complete aviary of exotic, tropical, colorful birds! We have identified over 100 varieties of these magnificent creatures! Without even leaving the estate you can view hummingbirds, orioles, tanagers, caciques, finches, parakeets, parrots, macaws, woodpeckers, chachalacas, trogons, hawks, honeycreepers, warblers, and much, much more!!! There is an even larger abundance if you venture into the nearby jungle! This is a truly unsurpassed bird-lovers delight!!! A copy of the Peterson Field Guide for birds of Mexico is always on the premises!
Both fully-furnished homes feature ocean and jungle views from every room and one-plus acre of private, gated land. All rooms are furnished with the finest amenities such as Ralph Lauren towels, 300 thread count all cotton sheets, comfortable pillows, televisions with DVD/tape players and a library of movies, Guatemalan fabrics for all curtains and pillows, furnishings that will allow you all the comforts you need while enjoying our incredible villa! Meander through our many cobblestone pathways into a tropical botanical paradise seldom seen on private grounds."