Colima City: Capitol of Colima State
We had 5 very pleasant days in the Melaque area, and we decided to press on south. We arrived at Manzanillo in short order, and looked for a hotel in the beachside resort area, but it didn't appeal to either of us, as we had become accustomed to the charms of a village atmosphere. The ocean swells were very large too, not swimmable where we looked.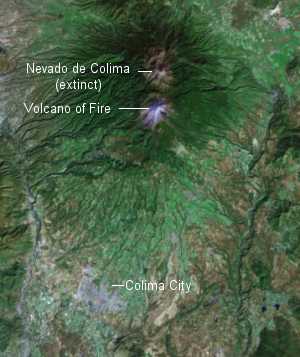 So, we decided to leave the coast and see what the Mexican highlands had to offer. We drove up to Colima City (pop 145,000), the capitol of Colima state, because we heard it was a very pretty place with lots of the original colonial architecture still in place (www.vistacolima.com.mx). Located in a sloping valley at an altitude of 1500', it is a short drive from the coast (about an hour) on a modern 4 lane toll highway.
I was interested in the twin volcano peaks of Colima, having seen them clearly with Google Earth from apace before we left. I assumed they would be waay in the wilderness, but much to my surprise, as we rounded a curve after passing through the coast range, there it was - all 13,000' - with the city of Colima right at the base (well maybe 10 miles away), with the higher peak (14,000') just 3 miles behind it (we've learned to never assume anything in Mexico). This is the quintessential volcano, a near perfect cone, truncated at the top where the caldera rim is.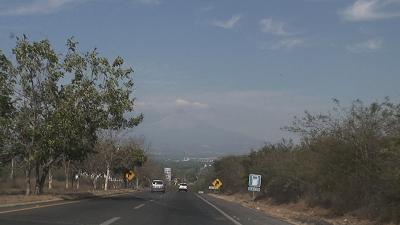 But wait, what's wrong with this picture? As we approached the city outskirts, there was a thick haze obscuring the view of the city and the volcano backdrop (it's there if you look hard) ... could a city of 145,000 produce enough air pollution to cause this, I wondered?
I later found out that Manzanillo has several giant diesel generating stations that produce power for Colima and the surrounding states, with plenty left over to sell to other countries. The coastal mountains are not substantial enough to block the emissions, and the constant onshore breeze carries it through the passes where it gets more or less trapped around Colima City. Very unfortunate, but I guess it's not as bad as the areas in Canada and the USA where they burn coal to produce power, such as in Alberta and Indiana (according to National Geographic, the Gibson plant in southwestern Indiana burns 25 tons of coal per minute at full tilt).
Update, 2010: Apparently the power generation plants have been upgraded to burn natural gas instead of diesel fuel. Cleaner, yes, but still a huge CO2 greenhouse gas source.
Fortunately, as Greenland continues to melt, there has recently been a major breakthrough in photovoltaic solar technology that is predicted to increase panel efficiency by up to 600%, and Mexico has a grand opportunity coming up because it is a perfect place to deploy this clean source of power on a large scale, with its high percentage of year round low latitude sunshine hours. It is estimated that just 0.1% coverage of the Earth's surface with this new technology will be enough to supply all of the Earth's energy needs.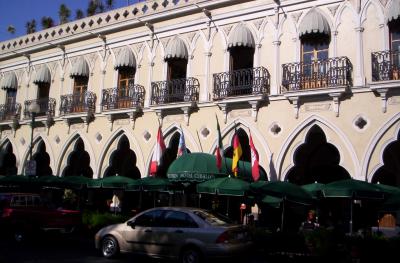 We continued on and stayed at the Ceballos Hotel, a beautiful place built in the 1800's in the neo-classical style. It sits directly across from the Zocalo (city center plaza), and kitty corner to a huge domed cathedral. It turned out to be a Best Western, so that was nice because everything worked properly and the staff were absolutely superb - they made us feel very welcome. It was really great how they sent someone to get 2 glasses of ice cold guava juice for us as we checked in (they could see we were hot, it was 90 that day). I heard from others that their rates doubled after they acquired the Best Western franchise, but I still thought it was a bargain at $83.00. If you need reservations, here are the links: Deals, discounts and special offers on hotel reservations worldwide.
If you're ever in Mexico City, check out the Cortes Hotel, it's another fantastic hotel built in the 1600's (another Best Western).
We sauntered across the Zocalo that evening to have dinner, and for anyone who has received 2 drinks when ordering a 'double', you'll appreciate this next story ...
Our 10 word Spanish vocabulary seemed to have successfully gotten us through the trip to this point, so we were feeling fairly confident. The quesadilla looked good, so we decided to go for it, but we also wanted chicken in them. Jenni used the menu to explain to the waitress that we wanted chicken, pointing to the quesadilla and the chicken, repeating the word 'pollo, pollo'. The waitress acknowledged our order and left, with Jenni feeling confident she had conveyed our wishes properly. What arrived was 2 chicken dinners, and 2 quesadilla dinners ... needless to say, Jen didn't think it was very funny, but I couldn't stop laughing, as I knew it would be a good story to take home :)
After all, the extra dinners were only $4 each, so we weren't out of pocket much, and I sure as heck wasn't going to try and send them back. I could just hear the kitchen conversation - ah, Jorge, it's no wonder the gringos are so overweight ...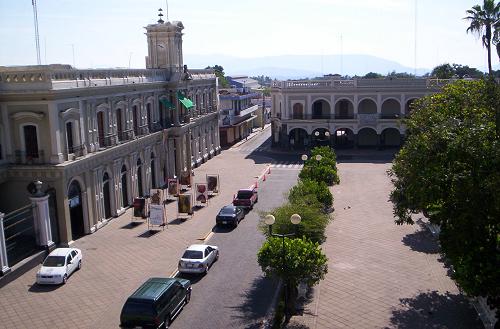 What a place! The scene below from our balcony over the Zocalo was bustling with people, but many were also just relaxing, sitting for a while in the beautiful Zocalo gardens. Colima City is very much like Oaxaca City, both located on an elevated interior plateau, with narrow streets, fast perimeter road, and a perfectly preserved downtown historical center with many amazing artesanos plying their art.
There isn't much over 2 or 3 stories high (except for church spires), so it has a very pleasant 'open' feeling to it. Colima is touted as 'the cleanest city in Mexico' and I'd have to say it's true from what I've seen (except for the air).
We had a walk around the Zocalo; there is much to do and see just in one square block. There's the Government Palace, the Colima Cathedral, The Museum of Regional History, and the Zocalo itself. There are several pedestrian-only streets that lead off from the square, chock full of arts, crafts and souvenirs.
After walking through in the large museum, then we went off in our car to ascend the Volcano of Fire (as they call it). My understanding was that they hadn't scheduled an eruption for that day, but was that smoke belching from the cone?
On the way, we passed the large statue of the dogs - the focus of an Aztecan legend that is very predominant here. It is said that no matter how good you've been in your life, if you don't have an escort dog with you on your journey to the afterlife, you will be doomed to stay in the valley of darkness forever. I only wish they would treat their dogs as reverently in this life, as being a dog in Mexico is a very tough life.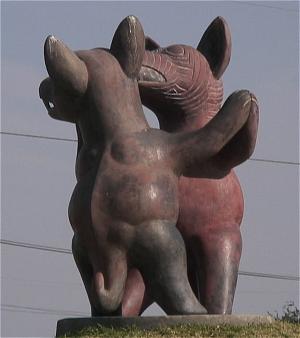 More Colima pictures:
---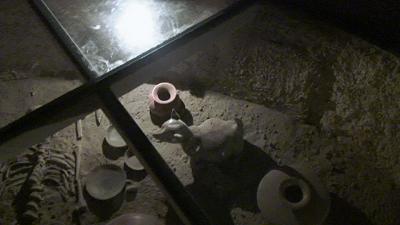 Escort Dog figurine beside skeleton in ancient tomb - The Museum of Regional History
---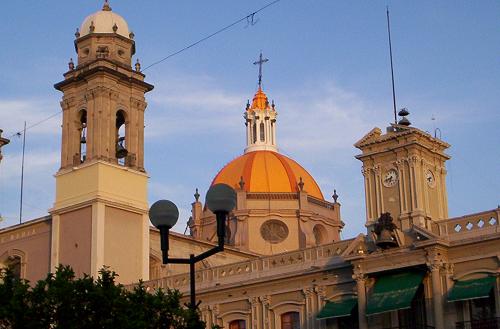 Colima Cathedral lit up by the sunset
---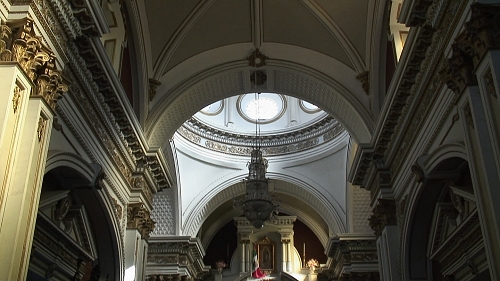 Colima Cathedral interior
---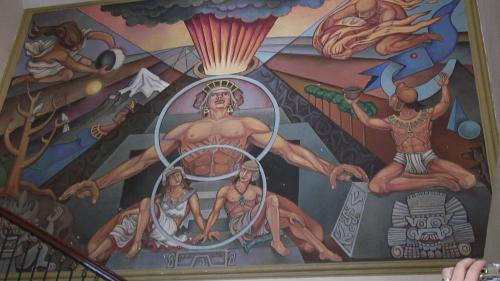 wall mural in Colima Museum of Regional History
NEXT DESTINATION: Volcano of Fire